EVELYN GLENNIE RECEIVES THE LÈONIE SONNING MUSIC PRIZE 2023
The British Solo Percussionist Dame Evelyn Glennie received The Léonie Sonning Music Prize 2023 of 1,000,000 Danish kroner at a special tribute concert in DR Koncerthuset on the 15th of June 2023.
At the award concert on the 15th of June 2023, Glennie performed as a soloist in the company of the DR Symphony Orchestra, where they performed among others James MacMillan's iconic Veni, Veni Emmanuel for percussion and orchestra. The evening also offered a very special tribute to the recipient, when 35 professional and student percussionists from across Denmark payed tribute to the award winner with a specially commissioned piece in DR Koncerthuset. The day after the award concert, Evelyn Glennie gave an artist talk and a masterclass at the Royal Danish Conservatorium.
Programme for the award concert:
Søren Monrad: Evelyn Glennie Tribute
Opening concert in the foyer and the square in front of DR Koncerthuset
Solist: Morten Friis
In DR Koncerthuset
James MacMillan: Veni, Veni Emmanuel Concert for percussion and orchestra (1991-92) (25′)
Introit – Advent
Heartbeat
Dance – Hocket
Conduct: Sequence I
Gaude, Gaude
Transition: Sequence II
Coda – Easter
Interval
Michael Daugherty: Dreamachine for solo percussion and orchestra (2014) (35′)
Da Vinci's Wings. Marimba.
Rube Goldbergs Variationer. Small handheld instruments. – Electric Eel. Vibraphone.
Vulcans smedje. snare drum
Award Ceremony
Áskell Másson: Concert piece for small drums and orchestra (10′)
DR Symfoniorkestret
Dirigent: Geoffrey Paterson
Listen to the award concert, which was broadcast on DR P2, here.
Evelyn Glennie is the first percussionist to receive The Léonie Sonning Music Prize.

The Léonie Sonning Music Prize 2023 was awarded with DKK 1,000,000 to the percussionist Dame Evelyn Glennie.
The Léonie Sonning Music Foundation states:
"As an artist, Evelyn Glennie is to an unusual degree a pioneer. With her strong imagination, curiosity and courage, she has spent a lifetime exploring the many expressive possibilities of percussion. 
For Evelyn Glennie, losing her hearing meant that she had to learn to listen and sense differently in the deepest possible sense. As a result, her artistic expression is characterized by a unique, wide-ranging, sensitive and expressive sound universe."
The prize was presented by member of The Léonie Sonning Music Foundation, Uffe Savery.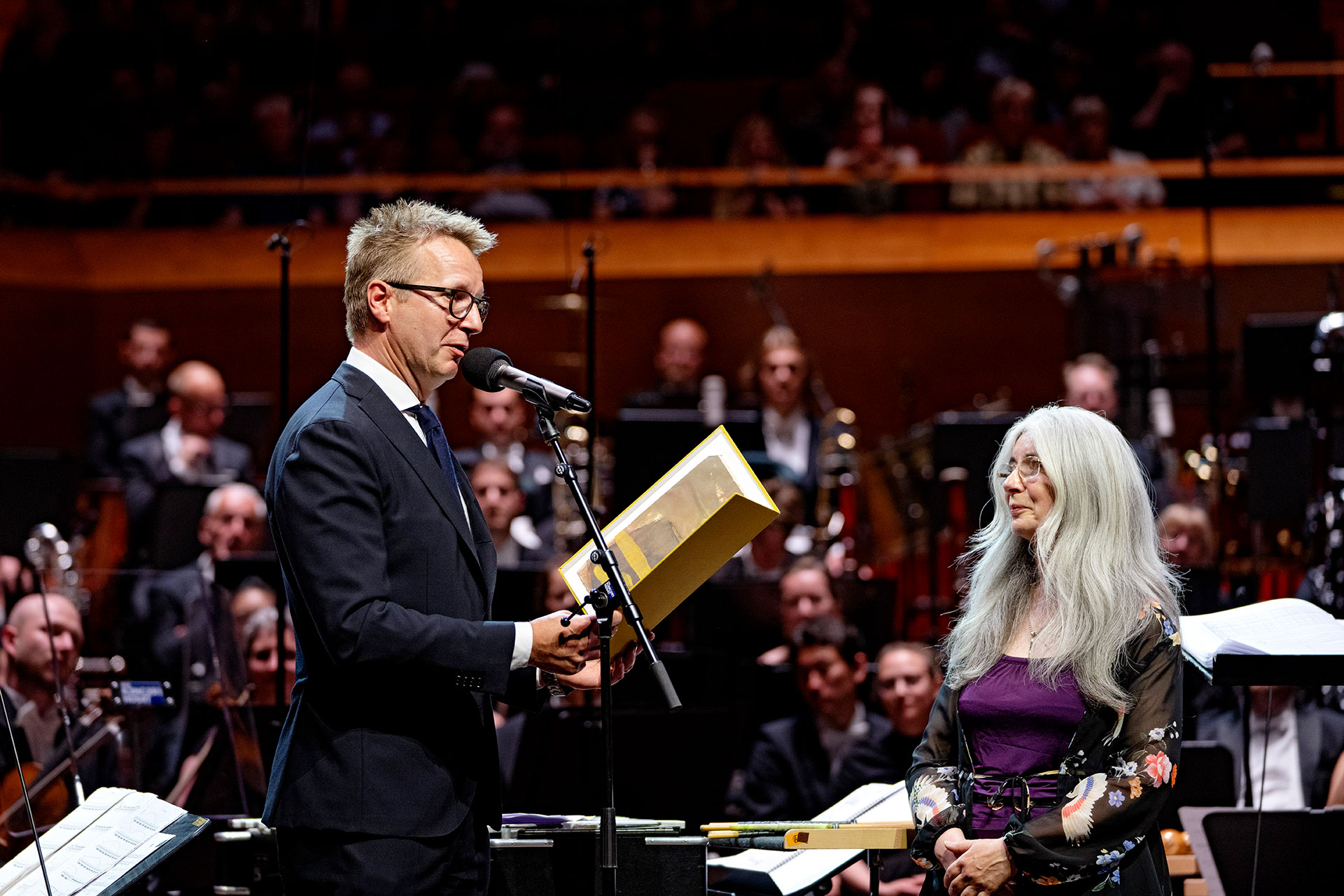 Evelyn Glennie has chosen to donate the money from the award to The Evelyn Glennie Foundation.
In her acceptance speech, Evelyn Glennie said, among other things:
"I am extremely honoured to address you all this evening. Never in my wildest dreams had I imagined standing here receiving an award as important and symbolic as the Leonie Sonning Music Prize.
From the deepest part of my heart, thank you so very much for even considering me for this special award and for having faith in what I am trying to cultivate in my life. My aim is for the effects of this Prize to be felt by many through the work of my Foundation, The Evelyn Glennie Foundation, whose mission is To Teach The World To Listen."

Watch a reportage from the evening, including the speeches from Uffe Savery and Evelyn Glennie, here. Footage: Nikolaj Lund.
EVELYN GLENNIE AND DENMARK
Evelyn Glennie's history with Denmark dates back many years and she has previously been praised for her performances in Denmark. 
In November 1995, Evelyn Glennie had a concert with the pianist Philip Smith at the Louisiana Museum of Modern Art. During that occasion, Jens Brincker in Berlingske Tidende wrote "The British Evelyn Glennie is a phenomenon… with bare feet solidly planted on the ground like antennas, she stood in the concert hall of Louisiana and could sense the vibrations from the marimba in her body. She transformed this into rhematic tensions and impulses…rarely do you experience modern compositional music played with such a physical presence and charisma." 
Evelyn Glennie was one of the first percussionists that made use of the Danish developed percussion instrument the Aluphone and used it during her performance for the opening of the Olympics in London 2012. In January 2014, Evelyn Glennie premiered Anders Koppels Concerto for Aluphone (doubling Marimba) and Orchestra during two sold-out concerts with Odense Symphony Orchestra. There is now a model specifically called the Glennie Concert Aluphone. 
In addition to several concertos by Anders Koppel, Evelyn Glennie has also been a soloist in percussion concertos by Per Nørgård and Poul Ruders.